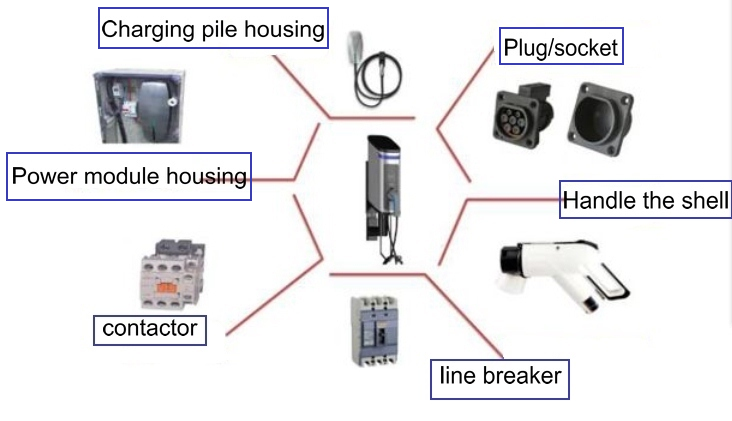 Flame retardant plastic materials are often used in auto parts, especially in new energy vehicles. Flame-retardant plastic materials are more widely used. Especially in charging piles and battery parts, plastic materials are required to be flame retardant. Look at the applications of flame retardant plastic materials in automotive parts.
Flame retardant plastic materials are mainly used in the parts of new energy vehicles. Battery modules, charging piles, charging guns, etc., must be made of flame retardant materials. As the charging connector of electric vehicles, the charging gun is the "axial" connecting the charging facilities such as charging piles and the electric vehicle. The quality of it directly affects the charging performance and safety. The material requirements of the charging gun are relatively high. Common materials include: PBT + GF, PA + GF, weather-resistant PC, etc.
The shell
The shell of the charging pile is generally made of flame retardant PC material. Material characteristics: halogen-free and flame retardant, high surface gloss, excellent electrical insulation properties, and excellent mechanical properties.
The Battery case
Plastic shells are currently the main development direction of power battery shell materials due to their good overall performance. For example, the series of lithium batteries produced by domestic companies are all plastic shells. It is reported that in the power battery standard, corresponding clear flame-retardant requirements are put forward for the battery shell box, and now more and more companies are beginning to use flame retardant plastics for power batteries.
The basic requirements for connector materials: heat-resistant and flame-retardant! The connector contacts are made of metal, which requires a high number of plugs and unplugs. The material is required to have good flame-retardancy, heat resistance, and avoid fire. At present, the commonly used materials for connectors are PBT and PPS, PA, PPE, PET, etc.
Both traditional wires and cables, car charging cables have high requirements for materials and equipment. Because of their special application environment. As the charging process time of electric vehicles changes rapidly, the current intensity is high, and the frequency of use is high. The material is required to have certain high-temperature resistance, aging resistance, and halogen-free flame retardancy. And low smoke during combustion while ensuring good insulation. density.
Advantages of plastic Part
Compared with traditional alloy materials, plastic parts have unparalleled advantages. Plastic products will help reduce the weight of cars. Data shows that for every 10% reduction in vehicle weight, fuel economy can increase by 5%. So new energy vehicles using plastic products can run farther.
Plastic products can also reduce the production cost of car companies. A simple injection mold plastic part can perform the function of welding many metal parts together. The plastic can be molded into a more complex shape than a steel assembly. Which can reduce the integration process. The number of parts used.
In addition, the elastic deformation characteristics of plastic products absorb a large amount of collision energy. Have a greater buffering effect on strong impacts. And play a good role in protecting vehicles and passengers. Plastics have strong corrosion resistance, local damage will not corrode. And steel Once the paint is damaged or the anti-corrosion is not well done. It will be easy to rust and corrode, which will affect the appearance of the car body and cause safety hazards.
According to the composition of the plastic, plastics with the required properties can be prepared by adding different fillers. plasticizers, and hardeners, mechanical strength, and processing and forming properties of the plastic can be modified to meet the requirements of different parts of the car. It can be said that plastics have contributed to the rapid development of new energy vehicles. The rapid development of new energy vehicles has opened up a broad market for plastics.