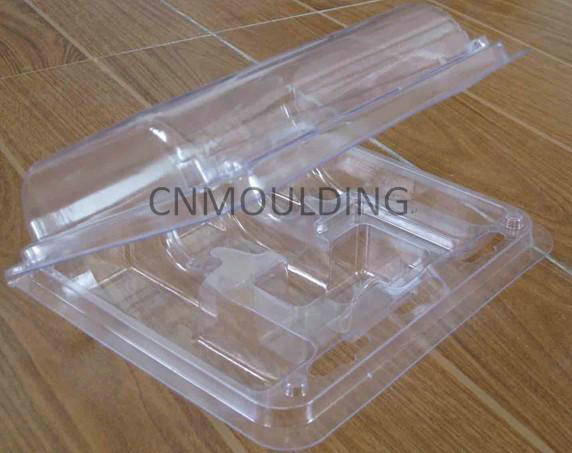 CNMOULDING is an expert in Custom Plastic Thermoforming in china. We are specialists in creating molded plastic components using thermoforming (vacuum thermoforming china) techniques. For 20 years we have created innovative thermoforming solutions in multiple industries. And assisted companies in materials selection, regulatory requirements, attaining cost targets, and more. To better fulfill customer requirements, CNMOULDING expanded to include injection mold capabilities in its list of thermoplastics manufacturing operations.
So now, from small parts to large parts, from short runs to long runs, simple to multiple part designs. Whatever the plastics part you need, whether by vacuum thermoforming china processes or injection mold in china process. We will suggest the best process for your project.


Vacuum thermoforming can produce the smallest pieces of tablet packaging materials or watches with the battery. You can also produce very large products, such as a 3 ~ 5m long garden pool. The thickness of the molding material can be from 0.05 to 15mm, for foam materials, the thickness can reach 60mm. Any kind of thermoplastics or materials with similar properties can be vacuum-formed.

The materials used in the vacuum thermoforming molding are sheets having a thickness of 0.05 to 15 mm. And these sheets are semi-finished products made of pellets or powder. Therefore, compared to injection molding, vacuum thermoforming the raw materials will increase the additional cost.

Thermoforming mold
The Thermoforming molds include plaster molds, electroplated copper molds, and aluminum molds.
 
Gypsum mold: plaster molding in the semi-wet state, and then drying mold, plaster mold is low cost, and easy to
modify, but the plaster mold precision is not high enough. The surface is not smooth and fragile is not durable, so it is often used to fight. To do the electroplating of copper mold or some of the requirements of small-batch production of plastic mold.
 
Aluminum mold: with aluminum ingots through the machinery (lathes, milling machines, CNC, etc.) from
processing. Aluminum mold has high precision, smooth surface, and durability. But the price is very expensive, aluminum mold is generally used in a high precision copper mold not reach the blister products.

Electroplated copper mold: Plaster mold is made of samples, the plating layer of the copper shell is the electroplating copper mold. The cost of relatively high plaster mold, but much cheaper than aluminum mold. Because of its smooth and durable surface, and low cost, electroplating Copper mold is the most commonly used plastic mold.

Thermoforming and plastic injection molding: Injection molding involves injecting molten liquid polymers into a mold at high temperatures and extreme pressure. Once the mold cools, the newly formed plastic parts are released. On the other hand, thermoforming involves heating thermoforming plastic sheets and forming them onto a mold's surface.