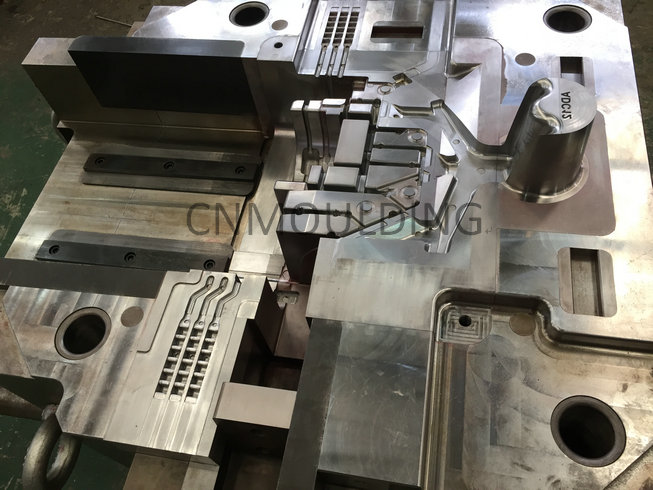 The service life of the Die-casting mold and Die-casting mold material is closely related. Die-casting mold zero, the components are mainly divided into contact with the metal parts, sliding parts and mold parts with structural parts. Die-casting mold cavity and runner and other components in the metal pressure casting production process, directly with the high temperature, high pressure, high-speed metal liquid contact. On the one hand by the metal liquid direct erosion, wear high-temperature oxidation and corrosion. On the other hand, due to the high efficiency of the production, the mold temperature rise and decrease are very severe, and the formation of periodic changes. Therefore, the Die casting mold working environment is very bad. Therefore, attention should be paid to the selection of the material for manufacturing the Die casting mold.

① A good malleability and machinability.
② High temperature red high hardness, high-temperature strength, anti-tempering stability and impact toughness.
③ Has good thermal conductivity and fatigue resistance.
④ Have enough high-temperature oxidation resistance.
⑤ Small thermal expansion coefficient.
⑥ High wear resistance and corrosion resistance.
⑦ Has good hardenability and a smaller heat treatment deformation rate.

Selection of die-casting materials should be based on product performance, process performance, production conditions, economy and the characteristics of Die-casting materials and other factors, a reasonable choice of the right die-casting material. Commonly used mechanical parts Die-casting materials include aluminum alloy, zinc alloy, and magnesium alloy.

Aluminum alloy is currently the most widely used die-casting materials, widely used in the
automotive industry, motorcycle industry, aerospace and so on.
Aluminum features are as follows:
1) aluminum alloy density is small, only iron, copper, zinc 1/3 or so, then the strength and specific stiffness is its outstanding advantages.

2) aluminum alloy has good electrical conductivity, thermal conductivity.

3) aluminum alloy oxidation resistance and corrosion resistance. In the air, the surface of aluminum is easy to generate a layer of dense oxidation of sulfur dioxide film, which can prevent further oxidation.

4) aluminum alloy has the good die-casting performance. Aluminum alloy die-casting process is simple, forming and cutting process performance is good, with high mechanical properties and corrosion resistance, it is the most promising alternative to steel casting alloy.

5) the high-temperature mechanical properties of aluminum alloy is very good, in the low-temperature work also maintain good mechanical properties.

6) The shortcomings of aluminum alloy are easy to produce a large concentration of shrinkage at the final solidification. In addition, the aluminum alloy and iron have a strong affinity, easy to stick mold, cold chamber Die casting machine in the pressure.

Die Casting Material Zinc alloy is also more common, zinc alloy features are as follows:
1) Zinc alloy has excellent casting performance, mechanical properties, toughness, in the traditional mechanical parts, hardware, locks, toys, and other industries is widely used.

2) Zinc alloy has excellent electrical and thermal conductivity, good vibration damping characteristics, good electromagnetic shielding performance in the electronics, telecommunications, home appliances on the application of growing.

3) Zinc alloy is a universal, reliable, low-cost materials, easy to die-casting production. Zinc alloy has good die-casting performance, making it easier to Die-casting complex shape, thin-walled, high dimensional accuracy of the product. Due to the thin-walled casting properties of the zinc alloy. It is possible to achieve a reduction in the weight and cost of the product.

4) Compared with aluminum alloy and magnesium alloy, zinc alloy has high tensile strength, yield strength, impact toughness and hardness, good elongation.

5) Zinc alloy die casting surface is very smooth, can not be used directly for surface treatment, but also relatively easy to carry out a variety of surface treatment, such as polishing, plating, spraying, in order to obtain better surface quality.

6) The low melting point of zinc alloy, melting at 385 ℃, compared to aluminum and magnesium alloy, zinc alloy is most likely to die casting.

7) Poor corrosion resistance. When zinc, lead, cadmium, and tin in impurity elements exceed the standard, they will gradually age and deformation, showing the volume expansion, mechanical properties (especially plastic) decreased significantly, a long time will rupture.

8) Timeliness. The use of time is too long, zinc alloy Die casting the shape and size will be slightly changed.

9) Zinc alloy should not be used in high temperature and low-temperature working environment. Zinc alloy has good mechanical properties at room temperature. But the tensile strength at low temperature and low-temperature impact properties are significantly decreased.

There is also a magnesium alloy, magnesium alloy features are as follows:
1) Magnesium alloy is known as the "2 1 century green engineering materials", the density of aluminum alloy 2/3, steel 1/4, but the specific strength and specific stiffness are better than aluminum and steel, far higher In engineering plastics, is an excellent, lightweight structural materials.

2) Magnesium alloy has a good energy absorption and vibration absorption characteristics, for the product shell can reduce the noise transmission, vibration absorption for the movement of parts and components to extend the service life of parts.

3) It has good electromagnetic shielding, can provide electronic products, anti-electromagnetic radiation.

4) Good rigidity, impact resistance.

5) Ductility is good, easy to shape, can make the product design with flexibility, improve product quality.

6) The low melting point of magnesium alloy, making low-temperature deformation, high dimensional accuracy, is conducive to a mold forming; and iron affinity, adhesion to the mold is small, The flow properties facilitate the production of complex pieces and small pieces.

7) The best machining performance, the required cutting force is small, cutting effect is a good, long tool life.

8) Heat, and second only to aluminum.
9) Dimensional stability, environmental temperature and time changes in the size of small.

10) It can be 100% regeneration.

11) Magnesium alloy in the air easily oxidized, magnesium alloy Die casting after forming must be surface treatment, improve corrosion resistance. Improve the surface quality of parts. Commonly used surface treatment methods include electroplating, spraying, anodizing and so on. Magnesium alloy has the same high-temperature brittleness, the hot cracking tendency of the shortcomings.